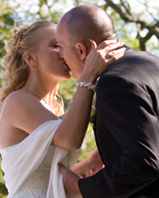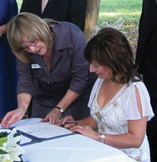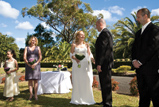 Fees and Conditions
Every ceremony is different and, for this reason, most celebrants are reluctant to quote their fees out of context. Please telephone me (02 9564 6165) to discuss your particular requirements. My fees, you will find, are mid-range. Your first meeting with me is free of charge and obligation-free.
Please find information below concerning what my services and conditions include.
Standard fee includes:
Solemnisation of Marriage, face-to-face planning meetings (2), rehearsal, assistance with creation of the ceremony, as required, fiancé visa letter (where required), Certificate of Marriage (Form 15), lodgment of documents with Registry of Births, Deaths & Marriages, information package (containing Form 14A, copyright information, relationship education information), consumables (stationery, telephone etc.), provision of audio equipment and registry table, cloth, pen, chair & posy of silk flowers, as required.
Extras:
Additional charges may need to be negotiated in the event of the following requirements: travelling, overnight accommodation, translation/interpreting services, themed costuming, provision of registered copy of official marriage certificate, ceremonies on boats or islands.
GST – does not apply and will not be charged.
Terms of Payment
Booking fee ($150) payable within 7 days of appointment.
Balance of total fee payable at least 14 days prior to the ceremony.
Refunds
The booking fee is not refundable.
Cancellation
Once the balance has been paid:
In the event of the ceremony not taking place or the bridal couple disengaging the services of Denise Tart, refund or partial refund will be at the discretion of Denise Tart.
In the event of the appointed celebrant being unable to officiate on the day, Denise Tart undertakes to provide a suitable replacement celebrant or to refund the balance. Refund of the deposit under these circumstances will be at the discretion of Denise Tart.
Privacy
Your personal details and your wedding arrangements will remain strictly confidential. Denise Tart will not disclose this information to any parties, other than to those authorities to whom I am obliged to lodge forms with and report to.