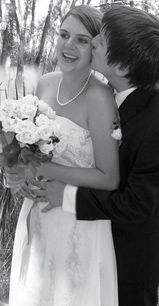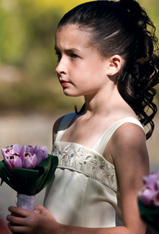 Testimonials
Denise, thanks so much for your warm and caring approach that made our wedding day so memorable. You provided some great input while allowing us to do things our way. Everything went smoothly thanks to your help. We happily recommend you to anyone.
– Dave & Popi
Denise, thank you so much for all you did to make our wedding ceremony so beautiful. December 1st ,2007 was the day that our dream came true. You were fun, friendly & very loving to all our friends & family, not to mention us!
Thank you also for the sensitive way you included our precious children in the ceremony – those memories will last with us forever.
– Lisa and Ray
Ryan and I would like to thank you for such beautiful Naming Day ceremonies you conducted for both of our daughters, Tayla and Jade.  We appreciate the way you incorporated all of our ideas with your own and made them personal and unique.  It was lovely to get the whole family together on both occasions to welcome our babies into the family and community and how you included them throughout the ceremony, by inviting them to participate with the lighting of the candles and giving them the opportunity to read pieces they had dedicated to the girls.   Both ceremonies you devised brought tears to the eyes of those that were there, they were special and memorable.  The amount of time and effort you put into making both days amazing was appreciated and have made them days that will never be forgotten.
– Tracey and Ryan
Thank you so very much for being such a special part of our wedding day! We really appreciated the perceptive way in which you helped us to create our own individual ceremony and we were touched by your special attention to detail. On the day you were sensitive and reassuring, and I have had many comments from family and friends about your subtle yet very personal manner.
– Emilie and Mathew
Thank you Denise for making our day so special. We appreciated your professionalism and warmth throughout the whole process, especially the time you took to make the wording of the ceremony just right. The sound system was perfect for our garden wedding and many guests commented on how beautifully you delivered the ceremony. Our official wedding certificate was in our letterbox when we arrived home from our honeymoon, thank you!
– Samantha and Scott
Denise, thanks in no small part to you, our wedding day was everything we hoped it would be. Your experience and expertise in the planning stages made us feel comfortable and secure in the knowledge that we were in the hands of a real professional. The ceremony was warm, intimate and heartfelt.
The personalised wording you helped to create sensitively reflected exactly what we wanted to express to one another at this most important moment in our lives. Thanks again Denise, we will recommend you to anyone seeking the best!
– Anthony and Susan
Denise, thank you for giving our wedding the most beautiful ceremony. It was very organised and well orchestrated. You did a fantastic job for us and we can't thank you enough. We will recommend you to everyone we know. Please let us know if there is anything we can do to help make you Sydney's most sought-after celebrant!
– Sara and Earl